Patio Paradise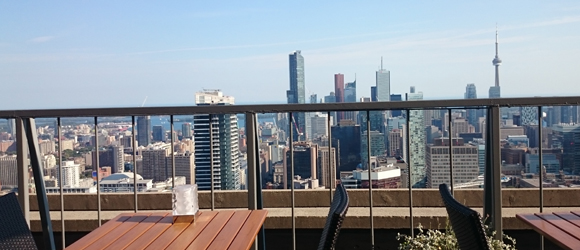 When I started out writing these articles for Jewish Review, the idea was just to provide a short guide to some of the better restaurants around Toronto but since then I have been trying to group of these places by a common theme, just to keep things interesting. As I love a good patio lounge as much as the next person, it felt only right to have a restaurant guide that focused specifically on patios and the result is my article "Patio Paradise" from the Spring 2015 issue of Jewish Review:
Patio Paradise
As the temperature climbs and the daylight hours stretch out into summer, we get an opportunity to enjoy one of the best Canadian summer traditions: joining some like-minded companions for an afternoon or evening out on the patio to relax with some refreshing beverages to help beat the heat. Not only are there many patios to choose from around the city in terms of location and scenery, but also to suit every possible mood when it comes to matching your cold drink of choice with some equally-delicious food.
El Catrin Destileria
18 Tank House Lane in The Historic Distillery District, located at 55 Mill Street, Toronto • 416.203.2121
elcatrin.ca
Found in the heart of the Distillery District, El Catrin offers authentic Mexican cuisine that includes many kinds of sharing plates and a kid's menu, so the whole family can enjoy themselves amidst the gorgeous decor both inside and out. Their patio features a huge firepit, giant metal filigree chandeliers, and cheerfully bright yellow furniture; the perfect setting for Citrus-marinated Ceviches and Mayan Margaritas, and their guacamole is to die for.

School Toronto
70 Fraser Avenue, Toronto • 416-588-0005
schooltoronto.com
This cafe is considered one of the best places for brunch in Liberty Village if not Toronto itself, especially because they offer brunch during the week as well as on weekends. But besides the endless brunch availability, School Toronto also stands out for their innovative takes on breakfast favourites, such as Krispy Krunch French Toast and Caramel Coconut Pancakes. Even if you aren't hungry enough for a full meal, you can grab a tasty treat from their famous bakery selection and relax on a stone bench under one of their big umbrellas on the patio.

Panorama Lounge / The One Eighty
51st floor, 55 Bloor Street West, Toronto • 416-967-0000
51stfloor.com
If you are looking for a patio with the best view in the city, the Panorama Lounge up on the 51st floor in the heart of downtown offers a bird's eye view that is beyond compare. Whether you relax during the day or come after dark to catch the glow of a thousand city lights, Panorama provides the perfect urban backdrop to enjoy some more fancy fare. For those with a bit more room in their budget, Panorama makes an excellent special occasion treat to indulge in dishes such as Emerald Risotto, Provencal Salmon or one of their hand-stretched pizzas like the One Eighty with prosciutto, smoked provolone, pesto and arugula.

Guu Izakaya
398 Church Street, Toronto • 416-977-0999
guu-izakaya.com/toronto
While Guu already has a solid reputation as a Japanese tapas fusion place worth lining up for, many people aren't aware of their more recent addition of a small but adorable cedar deck patio, which can be a welcome breath of fresh air compared to the packed (and noisily cheerful!) restaurant interior. Guu is known for its stellar ever-changing menu of fried, skewered and marinated meats and vegetables, with some exotic options for the more daring, like Marinated Jellyfish and Deep Fried Kabocha Pumpkin Croquette with a boiled egg inside. If you are in the mood for something other than Sapporo, they serve Asian-inspired cocktails and a variety of "vodka sodas" in flavours like aloe vera and oolong tea.

Against the Grain – Corus Quay
25 Dockside Drive, Toronto • (647) 344-1562
corusquay.atgurbantavern.ca
What could be a better way to enjoy summer than having a drink or bite to eat on a patio right on the edge of Lake Ontario? Both of Against the Grain's locations have a patio but only one gives you the sights and refreshing breezes that comes from being a stone's throw from the water. Besides offering a healthy number of local and international brews and wines, they also take traditional pub fare and add a little Canadian flare to it, such as Maple Chipotle Baked Wings and teryaki-glazed Lake Erie Pickerel.

The Drake Sky Yard
1150 Queen Street West, Toronto • 416-531-5042
thedrakehotel.ca/dining/venues/sky-yard
We've featured The Drake Hotel in a previous issue but the Sky Yard deserves a spotlight of its own, not only for its flawless hipster aesthetic but as one of the few patios around the city that is open all year long. A great place to meet some friends and share some oysters or even sample some sushi rolls from their raw bar, or you can work up a thirst for some chardonnay or pint of ale by trying their Crispy Duck Wings or cornmeal-crusted Fried Smelts.

Terroni
720 Queen St. West, Toronto • 416-504-0320
queen.terroni.com
For those who want to add a little traditional Italian flavour to their patio experience, Terroni's patio tables tucked amidst the sun-dappled shade of surrounding trees and greenery help create a real summery, relaxed atmosphere. When it gets too hot, you can pick a cool option like a Ricchia salad (made with arugula, fresh mushrooms and parmigiano reggiano shavings) or you can embrace the heat and enjoy a hot dish like Garganelli Geppetto (made with dandelions, homemade spicy italian sausage, fontina, parmigiano, and extra-virgin olive oil) or a pizza like their Natalina with roasted red peppers, hot calabrese salame, garlic and black olives.

Allen's Restaurant
143 Danforth Ave, Toronto • 416-463-3086
allens.to
Along with its partner kitchen "Dora Keogh" next door, Allen's offers food and drink inspired both by Canadian and Irish flavour palettes. It boasts an extensive beverage list, including 340 types of whisky and over 200 VQA wines, and their menu features solid Irish pub fare including Ulster Fry and Dublin Lamb Shank, as well as seafood specialties like their New Brunswick Lobster Roll, Lager-battered Wild Halibut and the Open-faced Oak-smoked Irish Salmon Sandwich. Their patio's varnished wood tables sit under the shade of a lovely large tree, perfect for relaxing with a pint during the hot summer afternoons.

Cluny Bistro
35 Tank House Lane in The Historic Distillery District, 55 Mill Street. Toronto • 416-203-2632
clunybistro.com
Another jewel found in the Distillery District, Cluny Bistro looks like a set straight out of an old turn-of-the-century European film, resplendent with ornate furniture, tiled floors and elaborate ceilings that evoke an Art Nouveau atmosphere. Even the chairs in their heated patio are delightfully whimsical with cast iron curlicues, perfect for lounging with a Joie de Vivre cocktail and letting the world pass you by. Their menu has a decidedly old world French theme, with rustic dishes like Hunter's Stew with pheasant sausage and rabbit, and more rarified dishes like Roasted Wing of Skate and Braised Beef Bourguignon Poutine.

Electric Mud BBQ
5 Brock Ave., Toronto • 416-516-8286
electricmudbbq.com
While not as fancy as some other places, Electric Mud BBQ is a colourful, quirky barbeque joint that offers straight-up Southern cuisine all year round with their covered and heated patio. From such tasty offerings like Spicy Pickled Green Tomatoes, Rib Ends and Cowboy Beef Ribs to comfort food favourites like Fried Chicken and Buffalo Cauliflower, Electric Mud BBQ is a popular spot so space is always tight, especially on the weekend, but it's more than worth the wait.
~Sunhawk