Leonard Cohen: Another Black Star Falls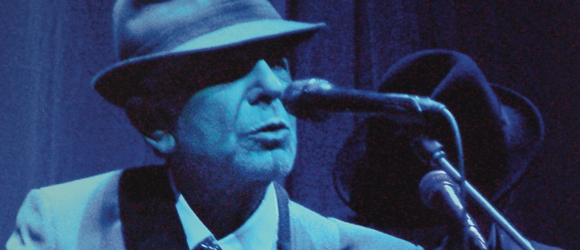 I've been writing articles for the lifestyle magazine my work puts out for a while now, and most of these articles have been softball topics, mostly food guides along with the occasional special interest article about travel or gadgets. But this winter I was asked to take on two much more weighty subjects: Leonard Cohen's recent passing and the fact that it came just after he had released a new album. There are few Canadian musicians more iconic and influential than Leonard Cohen, and I consider myself a great fan of music in general, so I decided to use his last album as a way of exploring both the songs of that album and how it reflected the rich tapestry that was his professional and personal life. I ended up writing one of my longest articles yet, and I hope my words do justice to his artistry and style. You will be missed, Mr.Cohen!
Another Black Star Falls
Leonard Cohen's last album shines with bright darkness, a fitting musical epitaph for the life of a man who embraced contradictions and learned how to turn moments of dusk into dawn, even in his twilight hours.
In a year that saw both David Bowie's passing and his final album Black Star taking the world by surprise as an artistic last will and testament, Leonard Cohen's last album can be seen as another 'memento mori' that is both more subtle and less startling. Even though at the time of the album's release, there was no indication that Cohen was in danger of passing on, his medical problems of the last few years were well-known and he also had a reputation as an artist whose relationships with human frailty and the passing of time often seemed as intimate as any romance.
You Want It Darker can be read as a sort of love letter with mortality, not in the sense of passive adoration, but a more complicated heart-to-heart, with moments of anger as well as acceptance, joy mixed with sorrow. Songs like "Travelling Light" act as part of a refrain found many times within the album, highlighting a man who has lived a long life with an end slowly coming into view:
I'm travelling light
It's au revoir
My once so bright, my fallen star
I'm running late, they'll close the bar
I used to play one mean guitar"
This inescapable sense of self-awareness stands at odds with Cohen's references to missing memories and forgotten loves. On the song "Leaving The Table" Cohen sing-speaks of this feeling of frustration, sometimes with bitterness at the limitations and failings of his more fragile physical self:
I'm leaving the table
I'm out of the game
I don't know the people
In your picture frame
If I ever loved you or no, no
It's a crying shame if I ever loved you
If I knew your name
You don't need a lawyer
I'm not making a claim
You don't need to surrender
I'm not taking aim
I don't need a lover, no, no
The wretched beast is tame
I don't need a lover
So blow out the flame"
And on the title track "You Want It Darker", Cohen's conflicted feelings come to a head; his dialogue with the unknown by turns speaking of refutation and rejection ("If thine is the glory then mine must be the shame") and also acceptance ("Hineni, hineni, I'm ready, my lord"). This deliberate evocation of the Jewish phrase "hineni" – the phrase "Here I am" spoken by Abraham when halted by angels in the sacrifice of his son Isaac – is echoed in the melody of the song, which is also touched with the transcendent, pure vocals of the choir of the Shaar Hashomayim Congregation, located in Montreal's Westmount neighbourhood.
This choice of synagogue was no random act, but another deliberate move on Cohen's part, not only to evoke the sounds of Cohen's Jewish upbringing but to include that specific synagogue, which is considered to be the Cohen family synagogue, as Cohen himself was born and raised in Westmount. Founded in 1946, the Shaar Hashomayim Congregation is both Canada's oldest and largest Ashkenazi synagogue, and is considered a respected Montreal institution where both Cohen's great-grandfather and grandfather served as presidents, with their portraits still found hanging on its walls.
During the recording phase of You Want it Darker, Cohen reached out to the current cantor of Shaar Hashomayim Congregation, a man by the name of Gideon Zelermyer with whom Cohen had previously developed a friendship through email over a mutual appreciation of choir music. Cohen explained to Zelermyer that he was looking to recreate the sounds of his youth on his latest album by incorporating the sound of a genuine cantor male choir. Zelermyer was ecstatic at the idea of being asked to contribute to Cohen's music period, but once he had heard some of the tracks in progress, his excitement became tempered with solemnity as he recognized the religious evocations in Cohen's lyrics, such as the Kaddish prayer "Magnified and sanctified / Be thy holy name" which is featured in the new album's title track. It was clear to Zelemyer that Cohen's latest works were his way of trying to make peace with himself and his maker as he approached the end of his life. Cohen was reaching out to his roots, returning to the places and teachings of his childhood, to the spiritual mysteries that had sent him on a quest for answers throughout his life, leading him as far as his time as Zen Buddhist monk and back again.
Acting as both collaborator and producer, Cohen's son Adam was also an integral part of his musical efforts with You Want it Darker. A respected musician in his own right who has spoken openly of his struggles to succeed outside of his father's long shadow, Adam was able to rescue the unfinished album from where it had languished on the sidelines for over a year, due to Cohen's various physical ailments including severe back injuries. Together they arranged for the remaining music to be recorded in the living room of Cohen's Los Angeles home with Cohen seated in a special medical chair (after which his recordings would then be emailed to the other participating musicians for them to listen to and then record and send back their own additions) and this intimate arrangement allowed Adam's father to record some of his most compelling vocals despite dealing with considerable chronic pain. Adam's attention to detail and production skills are evident on the album as an understated deft touch, with each musical component providing a low-key yet velvet-rich background to Cohen's gravelly vocals, which pleasantly glide in a unique vocal style somewhere between sung melody and spoken word.
Their recording sessions afforded the Cohen men an unexpected opportunity to bond over more than just the music, as Cohen's ability for intense creative focus and enthusiasm proved infectious. There were times for laughter and the kind of esoteric conversations that come from spending hours working in the same room (and possibly the effects of a little medicinal marijuana), and also times where they sat in companionable silence, soaking up the sounds of their musical efforts. This familial closeness conjures up once more Cohen's desire to return to his roots through his music, with the collaboration between father and son giving the new songs an inviting tenderness that reflects their mutual love and respect. Adam told Maclean's magazine at the time of the album's release: "Wanting to serve my father faithfully was at the core of this project."
It's not hard to imagine that having an opportunity to serve a man not only so full of talent but also brimming with personal strength must have been inspiring for all those involved in the album's creation. Leonard Cohen is an artist who has risen from the ashes of professional failure and personal strife on more than one occasion in his life, with a phoenix-like ability to turn those ash-grey times of hurt into bright flames of word and song. Cohen's dedication to his craft has served him all his life, in part by giving him a focal point that allowed him transcend the darker moments in his life by channelling them into his music. The lyrics on You Want It Darker gave Cohen an outlet for the fears and uncertainties of a man approaching the end of his life; sometimes his lyrics sound like a whispered last confession and sometimes like a dying man's last plea, like on the song "Steer Your Way":
Steer your way through the pain that is far more real than you
That's smashed the Cosmic Model, that blinded every view
And please don't make me go there, though there be a God or not
Year by year, month by month, day by day
Thought by thought"
That honesty and vulnerability, Cohen's willingness to admit his flaws and fears, is one of the things that makes Cohen such a great artist. Having worn many artistic hats over the years – singer, songwriter, poet, novelist, even painter – one of the elements that has remained consistent in Cohen's work is his ability to connect to those around him, to offer up his heart and (almost) all its secrets. Cohen's last album is his last gift to the world, to remind us that even in dark times that there can be light, that beauty and grace can be found in the strangest places, that it's never too late for redemption or rebirth.
Canadian musician Rufus Wainwright, who is also the father of Cohen's granddaughter Viva, paid tribute to Leonard Cohen after his passing and his words sum up what many fans feel about the beloved Canadian legend: "Like for most of us, for me he dwelled in a higher strata inhabited by some living but mostly passed icons who seemed to have this direct line to the galaxy, whilst at the same time knowing exactly when to take out the trash. Formidable in both the sacred and the mundane… Farewell, Leonard, we need you now up there as much as we did down here."
Facts About Leonard Cohen
Born September 21, 1934 in the Westmount neighborhood of Montreal to mother Marsha Klonitsky (daughter of Talmudic writer Rabbi Solomon Klonitsky-Kline) and father Nathan Cohen who owned a successful clothing store and died when Leonard was nine years old.
Formed his first musical group while at Westmount High School, a folk group called the Buckskin Boys.
Won the Chester MacNaghten Literary Competition with his two poems "Sparrows" and "Thoughts of a Landsman" in 1951.
Graduated from McGill University in 1952 with a B.A. and was also president of the McGill Debating Union.
First published his poems in 1954, in the magazine CIV/n, and his first book of poems "Let Us Compare Mythologies" in 1956.
Leonard published thirteen books throughout his life, including his most recent book "Fifteen Poems" which was published in 2012.
Recorded and released fourteen music albums starting with his first album "Songs of Leonard Cohen" in 1967.
Was ordained as a Zen Buddhist monk in 1996, though he said he considered himself still Jewish and when he passed away, he was laid to rest with a Jewish rite.
Has been romantically involved with a number of women throughout his life including Janis Joplin and Suzanne Elrod, with whom he had his two children Adam and Lorca.
Discovered in 2004 that his long-time manager Kelley Lynch had secretly drained most of his financial savings; Cohen took her to court and won but was unable to collect the awarded nine million dollars from Lynch. This dire-straits situation prompted Cohen in 2008 to launch his first world tour in fifteen years, and was considered a great success, allowing Cohen to visit many places he had never been to before in a series of tours that spanned nearly five years.
Has won many awards for both his music and his written words throughout his career including the Governor General's Award for his poetry (which he refused), the Grammy Lifetime Achievement Award and his induction to the Canadian Music Hall of Fame.