Greenbelt Photo Exhibition at the Malton Airport Gallery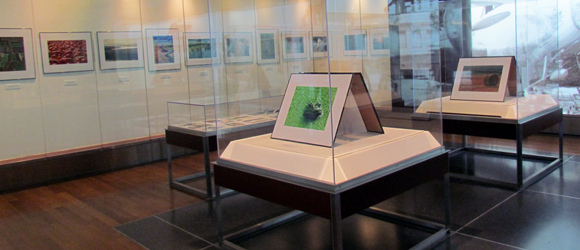 Last weekend I took a trip over to Pearson Airport to check out one of their galleries because the Greenbelt Photo Exhibition, which includes my barn owl photo, is on display there until the end of this month as part of the Changing Exhibits series in the Malton Airport Gallery, located in Terminal 1. Pearson Airport actually has more than one space dedicated to different exhibitions of local art, as well as a permanent collection of large-scale sculptures and other installations. That permanent collection is a mixture of international artists and Canadian artists including some exceptional examples of First Nations art and artists.
My adventures to find the Malton Airport Gallery could not have gone any smoother, as not only did I speak to a lovely representative ahead of time to inquire exactly where the gallery is (sadly not listed on the airport maps that I could find) and give them a heads-up that I was coming (always important when planning to photograph in a gallery space) but on my way to the airport I met another employee who personally escorted me to the gallery, as he knew exactly where it was.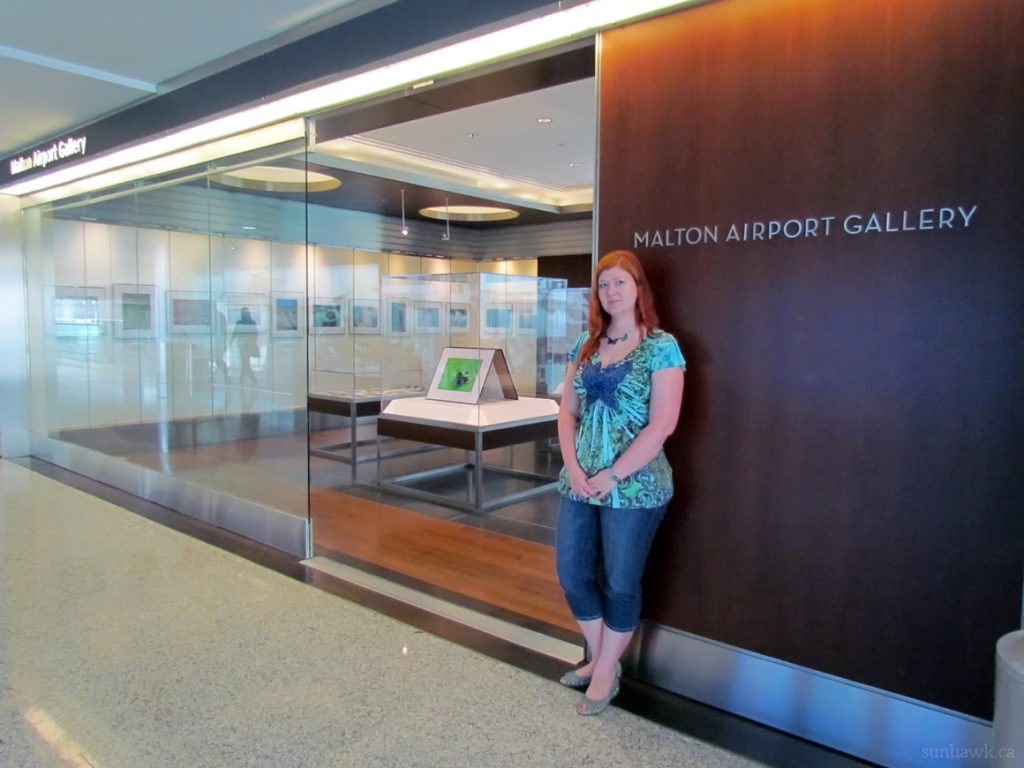 Even though this gallery is on the small side, I think it's actually adorable and there is a lot of room to hold many pieces of art, the acrylic cases and glass-protected walls are definitely up for the challenge. The only issue I had was when I was trying to take some photos, as the educational backlit panel with the airplane at the back is very bright and with so many shiny glass and acrylic surfaces, it made it tricky to avoid getting reflections from certain angles.
Here is a sample of the photos I took, some of the better ones as I experimented with taking the same shot a few times to see which version looked best with the different lighting coming from each side. If anyone else from the Greenbelt contest is interested in having these photos, I also tried to take one of each photo on display, so please do get in touch and I can send you my photos in their original high-res format.
The gallery was in a part of Terminal 1 that I'd never been to before, which is not surprising given that there are many parts I have yet to explore even though the airport got its major facelift at least ten years ago. But this cute little gallery seemed to get a lot of foot-traffic passing by, from both visitors and staff, which is always good! Hopefully some people with a little time to kill before their flight or while waiting for arriving relatives will take the opportunity to check out our photos and learn more about the Greenbelt and Ontario. I think the winning photos are such a perfect representation of the best parts of Ontario, the spirit of the province really does shine through.
I am so thrilled that I decided to enter the Greenbelt photo contest, because it has given me an opportunity to have my art shown in places I would never imagined, first the McMichael Gallery and now Pearson Airport. It means a lot to me to be involved with this exhibition and the Greenbelt organization itself, who have done such an excellent job in securing these awesome gallery spaces and doing all the work to get the photos set up properly. Finally, a show where I didn't have to do all the work, will wonders never cease! 😉
~Sunhawk