Dragonhorn Barrettes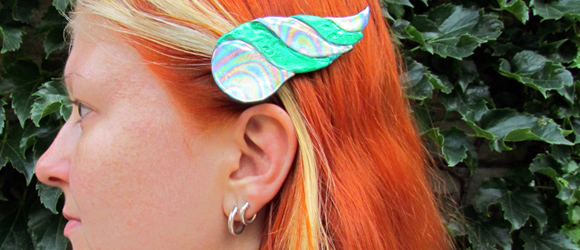 There is a very interesting craft product around called Friendly Plastic.  It comes in two basic types: translucent white pellets meant to be melted down into various shapes and colourful metallic strips about the size of a child's short ruler.   As a child, I'd used the latter while in Girl Guides, mostly to cut out simple shapes to be layered on top of each other and fused together by placing them in the oven to melt at the specified temperature.  A while back, this plastic product came to my attention again as I was looking into alternatives for the Supersculpey that I use for my wearable horns – I wanted something more lightweight and the Friendly Plastic strips appealed to me with their metallic vivid colours and patterns. Unfortunately, after experimenting with heating the strips and trying to mold them by hand into 3D horn shapes, I discovered that Friendly Plastic strips appear to have a very fine line between "not yet warm enough to be malleable" and "shapeable but also very sticky and hot" so I had to set aside that particular project, at least for now until I figure out a way to handle the warm plastic without ruining the fine colours – they are very pressure sensitive and even a fingerprint is enough to make a permanent impression and smear the colour.
In the meantime, I devised a much simpler format for using this plastic to create horns:  I went back to my Girl Guide crafting days and decided to cut out shapes to create 2D horns that are secured to alligator hairclips to create horn barrettes that give the illusion of having a short pair of two-tone horns that sit just above one's ears.  As I am often the only model at my disposal for modelling my wearables, I posed with one of each colour set that I created during my first round of horn-making, to give people an idea of what the horns look like and how I suggest they could be worn.
Not too bad for a first round, and they did fairly well at FanExpo so I will have to set aside a day or two to create some new sets and play around with different colours.
~Sunhawk