Mountsberg Raptor Centre
As a belated birthday present to myself and to show around some relatives, a few days ago we all went over to the Mountsberg Raptor Centre on one of their private tours you can book, which was super fun and gave us a behind-the-scenes look at how they feed and care for a variety of birds, including their Shrike Recovery Program.
Part of the private tour was a personal educational session and we also got a chance to hold a raptor! I was so thrilled to get a chance to have a barn owl on my gloved fist, his name is Shadow and there is nothing more magical in this world than having a barn owl stare into your eyes and then chuckle at you.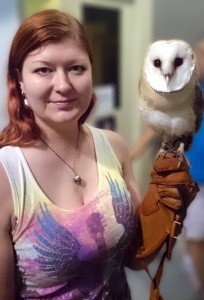 After our tour, there was a little show that everyone could watch where they brought out an American Kestrel named Pip and a barn owl that was a mix of North American barn owl and European barn owl, her name is Jazz and she is one gorgeous lady. My camera was behaving for once and I got some truly gorgeous shots of those two plus a few other birds we encountered, what a great day!
The barn owl shots in particular came out so good, if only all my photos turned out that nice! Ha ha ha
~Sunhawk