La Crème de la Crème Glacée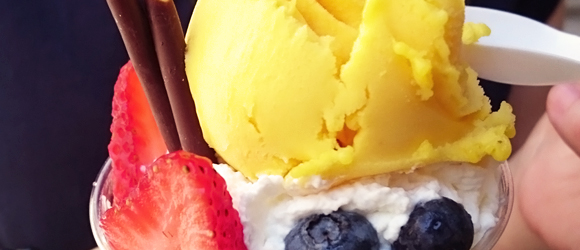 The minute I started writing food-related articles, it was only a matter of time before I wrote about ice cream. I have a reputation for my fondness of ice cream, to the point that I was on almost a first-name basis with the lovely lady who drove the soft serve truck in my neighborhood. I even drew a comic once about my sixth sense for hearing the ice cream truck jingle from a mile away. I also love eating gelato, particularly when it's a nice tart raspberry gelato, but I like all sorts of flavours of frosty delight and thus my article for the Summer 2016 issue of Jewish Review was an opportunity to share my favourite "cold spots" on a hot summer's day.
La Crème de la Crème Glacée (The Cream of Iced Cream)
For a nation that spends a significant part of the year locked in ice and snow, we are surprisingly enthusiastic when it comes to consuming ice cream and other frozen desserts. Maybe it's because ice cream evokes some of our fondest childhood memories of that perfect, seemingly-endless summer, where an ice cream cone brought sweet relief to a hot, sunny day. Or because there are so many different flavour combinations out there to satisfy every person's tastes, from the classics like chocolate, vanilla and strawberry to more unusual and exotic combinations of fruit and other flavours. Ice cream is such a big part of pop culture that your favourite flavour of ice cream is often seen as a defining part of your personality. Here are a few places in the GTA that keep our love of ice cream as fresh as ever.
Bean and Baker Malt Shop
326 Harbord St., Toronto – 416-536-SODA
http://www.beanandbaker.com/
This cornershop gem in the heart of Bickford Park is like a time machine, letting you step back decades into the days of the classic American malt shop experience. As you are served by staff nattily dressed in the "soda jerk" uniform including red bow-ties and neatly-folded paper caps, you can take in the old-school diner décor complete with checkerboard floor and retro vinyl seating. Besides serving premium ice cream such as Kawartha Dairy and dairy-free organic ice cream made with coconut milk (both are also used in their delicious floats, milkshakes and sundaes), the malt shop specializes in handcrafted sodas (with flavours such as Root'n'Cola, Lemon-Rickey, Gramp's Ginger and Vanilla Cream) and a variety of baked goods. Grab your sweetheart and head on down for a treat, like a warm cherry pie pocket à la mode or grab two straws and share a classic ice cream float.

Dutch Dreams
36 Vaughan Road, Toronto – 416-656-6959
http://www.dutchdreams.ca/
Not only has Dutch Dreams been offering over 60 flavours of ice cream (including 32 kosher flavours) for the past 30 years, they also specialize in Dutch treats which are not often found in Toronto or surrounding area. Their store looks like a child's fantasyland with its unique mixture of kitschy knick-knacks and whimsical, colourful décor both inside and out, including the pastel milk cans that sit outside the shop. Many of their ice cream treats, such as their sundaes and the Royal Dutch Banana Split, feature freshly baked waffle bowls and ice cream can also be scooped into topping-coated waffle cones, both made in-house from a Dutch family recipe. More delights from the family recipe book include their Dutch waffles and pancakes, served with a heavenly helping of fruit and whipped cream. They also do catering and parties, where you can enjoy one of their most ambitious and unique dessert offerings: the Super Royal Dutch Baked Alaska (with all Kosher ingredients), a dessert featuring ice cream covered with a layer of cake and a hearty dash of Grand Marnier and then topped with toasted meringue, fresh fruit and toasted sliced almonds.

Booyah Inc.
16 Vaughan Road, Toronto – 647-347-2001
http://booyah-inc.com/
If you are more interested in exploring the future of ice cream than waxing nostalgic about its past, Booyah is right there at the cutting edge of dairy-based dessert technology. Not only do they offer decadent ice cream sandwiches, their best-known ice cream treat featuring seven types of cookie that are baked right in the store (including vegan and gluten-free options), but they've also created some new innovations such as the ice cream taco, which is like a three-scoop ice cream sundae captured in a uniquely-shaped waffle cone. Also new are the "sweet pockets" that combine (through some sort of food science wizardry) both hot and cold by having ice cream that stays relatively unmelted inside a pastry that they heat up with a special space-age heating machine. Their futuristic outlook is also reflected in their clean, minimalist shop aesthetic with neat white and black tiled walls and counters.

Ed's Real Scoop
3 locations around Toronto
http://www.edsrealscoop.com/
Unlike some ice cream places that feature frozen products made by other companies, Ed's makes all of their ice cream and frozen desserts in-house. In fact, Ed's ice cream is one of the ice cream brands most likely to be found in top ice cream shops across the GTA, as they also do wholesale ice cream sales and offer over a hundred different ice cream flavours, each made with care and the best ingredients. At their three locations, not only can you enjoy these flavours as a scoop or three in a cone, sundae or milkshake/float, they also offer other frozen goodies such as ice cream cakes and pies, frozen yogurt, gelato and sorbet (dairy-free and vegan-friendly) and a special Italian dessert called an affogato, which is a scoop of ice cream served with a shot of hot espresso poured over the top. On a warm afternoon, there is usually a line to get your own frozen treat but it's definitely worth the wait!

Greg's Ice Cream
750 Spadina Avenue, Toronto – 416-962-4734
http://gregsicecream.com/
Another great source of made-in-house ice cream, Greg's has something of a cult following, and with over a hundred flavours on rotation, you never know what will be available on any given day. Yet this just adds a sense of thrill when you make your way to their location at Bloor and Spadina, as it encourages you to try new flavours and find new favourites. Some of the choices seem deceptively simple yet offer previously-unexplored taste experiences with all-natural ingredients, such as Sweet Cream and Stout, or sweet combinations like Coconut Pineapple Rum and Spicy Mexican Chocolate. Be warned, when they scoop their ice cream, they scoop it generous and large, so don't order more than your stomach can handle! They also make excellent milkshakes, sundaes and banana splits, and they have outdoor seating available in the warm months for that perfect summer afternoon experience.

Sweet Jesus
Queen Street East and John Street locations
http://www.sweetjesus4life.com/
With a hipster-friendly look that seems ready-made for Instagram aficionados, its almost-as-popular espresso bar and its location close to trendy Queen St West, Sweet Jesus brings a youthful energy to its frozen desserts, with their intriguing takes on two traditional treats: soft-serve ice cream and the popsicle. They make their popsicles in the style of the Mexican "paletas" (which traditionally uses real fruit juice and fruit chunks) and they come in an ever-changing variety of interesting combinations, such as peppered mango with mint or the "Black Heart" with fresh raspberries, cava champagne, and cinnamon hearts. But it's their soft-serve ice cream that has gotten Sweet Jesus the most attention and what keeps people lined up right out of the shop on a regular basis, not only for the six delicious soft-serve flavours available besides the regular vanilla, but the eccentric, over-the-top combinations of dips and toppings that just beg to be photographed. Prepare to be amazed at such creations as Krusty the Cone (vanilla soft serve, pink & blue cotton candy, and cotton candy drizzle) or the Strawberry Shortcake (caramel and strawberry/rhubarb twist soft serve, cake, strawberry sauce, Ontario strawberries) and even their espresso bar has some truly decadent themed lattes, smothered with flavoured whipped cream and even more toppings.

Wooffles & Cream
8360 Kennedy Road, Markham – 647-281-0487
https://www.facebook.com/woofflesandcream
For a sweet treat a bit farther north, Wooffles & Cream is another soft-serve ice cream place with a twist, and the twist here is their Asian-inspired soft-serve flavours paired up with Hong Kong style egg waffles, both sweet and savoury. They make these fluffy, airy yet crispy waffles with their unique bubbled shape by using a specially-shaped hot griddle to make them fresh for each order, which means that sometimes the line in the store can be a bit slow to move, but it's definitely worth the wait. Even though these egg waffles are very tasty on their own (with new flavours available on a limited time basis), they are even better when paired with soft-serve flavours like green tea (matcha or Hōjicha), black sesame seed or classic vanilla, along with toppings for parfaits like Blueberry Cheesecake. They also offer Italian sodas in whimsical flavours such as Mango'n'Jello and Kumquat Lemon, which go great with some of their more salty waffle creations.

SOMA
Distillery District and King St locations
http://www.somachocolate.com/pages/gelato
While SOMA is best known for their beyond-amazing chocolate products, they also offer some of Toronto's best gelato (though at the Distillery District location they are only available during the warm months of the year), with an emphasis on using local ingredients such as Ontario peaches, apricots and strawberries. These mouth-watering, ultra-gourmet gelatos and sorbettos will take your tastebuds to a whole new level of bliss, with flavours such as Dulce de Leche, Whisky & Chocolate, Ontario Sour Cherry and Rootbeer Toffee. And if your mouth gets too cold, you can warm it back up with one of their famous hot chocolates, including their spicy Mayan drinking chocolate, or just take a gelato break with one of their exquisite handmade chocolate truffles or one of their many other intense, award-winning chocolate treats.

Sweet Olenka's
4 locations across Toronto
http://sweetolenkas.ca/
With four locations including one in Kensington Market, Sweet Olenka's already has a reputation as a baking powerhouse, but along with their cute, colourful and often humorous custom-made cakes and truffles, they have also gained a reputation for their equally-adorable handemade ice cream bars, including some vegan options. Using the same made-from-scratch ice cream that they also offer in the more conventional cone or cup format, Sweet Olenka's ice cream bars come in cute themed shapes and decorations, such as cartoony kitty faces (strawberry), pawprints (coconut) or oversized chocolate bars. And those that come in the more usual bar shape are dipped and drizzled with flavoured chocolate (another Sweet Olenka's specialty) in a way that gives each bar a very elegant look, in flavours such as red velvet, salted caramel and raspberry white chocolate.

Arctic Bites
21 Baldwin Street, Toronto – 647-347-2818
http://www.arcticbites.com/
Arctic Bites offers a different type of ice cream experience, and one not often seen in Canada, with their Thai-style ice cream rolls. This style of ice cream is also referred to as "stir-fried ice cream", due to the unique technique used to create each serving literally from scratch, right in front of your eyes. They use a special device called an "ice grill" that creates a sub-zero surface where the mixed ingredients (both liquid and solid) are poured and then remixed and chopped up until it slowly freezes into a flat layer of ice cream that is then expertly scraped into neat little ice cream rolls that they fit into a paper cup. The end result is like nothing you've ever seen before, but tastes like pure ice cream heaven, with combinations that nicely mix eastern and western flavours, such as Two Can Sam (which features wheat flavoured ice cream with Froot Loops topping) and Taro with a Twist (taro-flavoured ice cream mixed with coconut shavings, topped with mini mochi bites, condensed milk drizzle and a thin Pizelle waffle cookie). Give yourself some extra time to visit, as the store line usually moves a bit slowly due to how long it takes for each serving to freeze on the grill, but the results can't be beat.